What's New in Refinery 0.9.7
2 minutes and 38 seconds read.
Refinery now speaks 10 languages
The community asked for it and here it is. Refinery has been translated into 10 languages. Here's the list included in this release:
Dansk
Deutsch
English
Español
Français
Italiano
Nederlands
Norsk Bokmål
Português
Slovenian
I'm stunned at the diversity of the Refinery community and would like to thank everyone who contributed translations.
The dev team is looking to further the number of supported languages. Please let us know if you can help us out.
Refined UI
We've been working very hard on Refinery HQ, the hosted version of Refinery, and what came out of that exercise is a new refined UI. We wanted it to be brighter, prettier and ultimately more fun to use. Here's the changes visually:
Before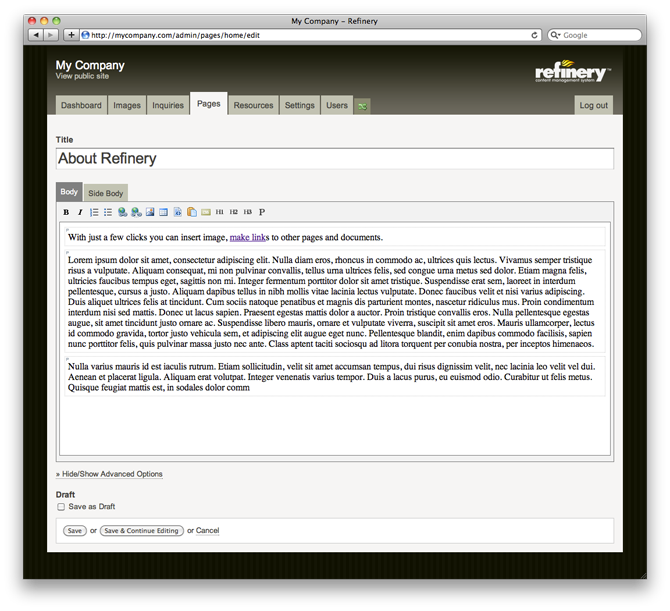 After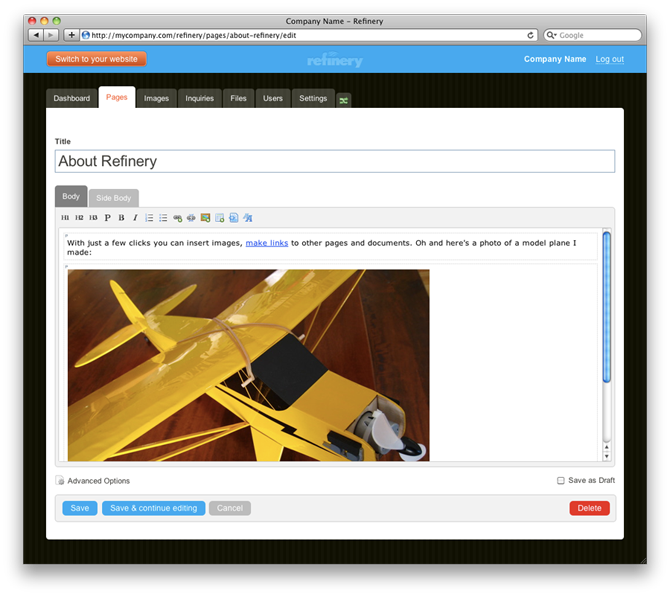 Prettier URLs
Ever since the beginning of the project Refinery's URLs looked like this "/pages/contact". That is now gone and has been replaced with a much cleaner "/contact". Refinery now also nests URLs too so you get really nice URLs like "/about-us/our-team" etc.
Spam Filtering
One thing that has been bothering me a lot is the amount of spam that comes through the contact form. In this release the contact form now detects and marks inquiries that are spam and doesn't notify you by email when a spam inquiry is made.
Other Notable Changes
You can now restrict certain Refinery settings to the super user
Caching has been applied to some bottle necks, making Refinery more responsive
You can now assign roles to users which makes it easy to make an area of your app a "members only section"
Switched to Bundler and added better support for Rack
What's Next? Rails 3 of course!
We're working hard towards the Refinery 1.0 release. As part of that, the project will require Rails 3. There is currently a Rails 3 code branch that is being actively developed on to work towards this goal. 
And finally, Thank You!
We're continually amazed by the talent of the people that contribute to Refinery. Thank you to everyone who has been helping out, we really appreciate it.